DHL Postage from Mustang Cleaning Supplies
We deliver well packaged, bulky goods, with chemical content. It is for this reason, we have to charge for postage in most cases. Whilst we keep the price of our goods low; a high quality and fast postal service comes at a cost. Double check your postage rates here. Our website works them out for you.
Postage is subject to VAT
Economically and environmentally, it is often better to order large amounts of our product less frequently.
Larger orders over £150 + VAT to UK mainland Zone A are sent free from Mustang Cleaning Supplies for a limited time only. For Zone B, the free delivery minimum is £200 + VAT. For Zones C and D, as well as smaller orders, standard shipping rates apply.
For certain items we also include a "bulky item" surcharge, such items are marked up accordingly when you add them to the basket.
N.B. Orders placed after 4pm Monday to Thursday will not be processed until the following working day. Orders placed after 4pm on a Friday will not be processed until the following Monday (our offices are closed at weekends and on Bank Holidays).
| Zone | Standard Delivery Charge | Minimum Order Value for Free Delivery |
| --- | --- | --- |
| ZONE A | £8.00+VAT | £100+VAT |
| ZONE B | £10.00+VAT | £200+VAT |
| ZONE C | £15.00+VAT | N/A |
| ZONE D | £20.00+VAT | N/A |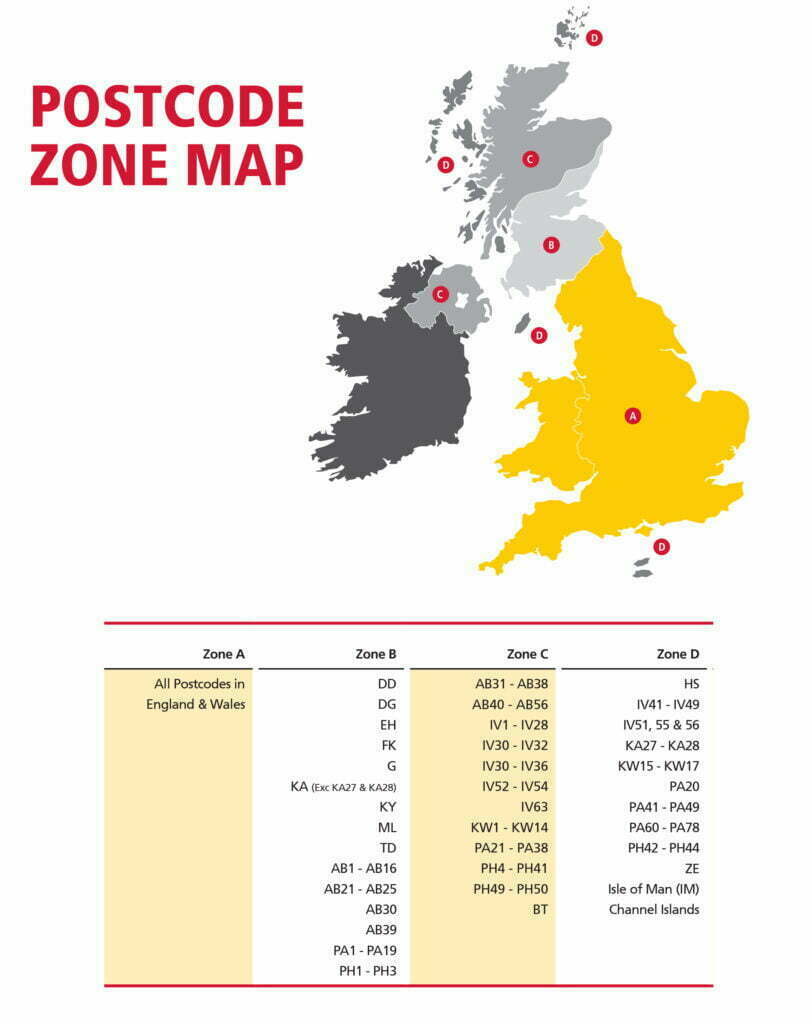 DELIVERY SPEED
Standard DHL service is up to 4 working days. Some of our customers claim that they receive their orders the next day but be aware this is just luck. We can only advertise DHLs standard network speed of 4 working days. Exceptionally large orders may be split. Most of our clients are cleaning businesses in their own right – we advise critical deliveries to be planned well ahead of time required.
N.B. Delivery by DHL can be anytime between 8am and 8pm, Monday-Friday.